In-House Services at St. Louis Medical Clinic
Lab, Infusion Services & More All In One Place
One of the most frustrating parts of seeing doctors is having to go to multiple facilities for evaluations & testing. The great thing about St. Louis Medical Clinic is that we offer a wide variety of ancillary services that enable us to handle your care within our office. St. Louis Medical Clinic offers routine lab testing, infusion services and much more.
Call us to learn more about the in-house services we provide or to schedule your appointment today!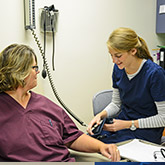 Platelet-Rich Plasma for Osteoarthritis
Platelet-Rich Plasma for Osteoarthritis
Osteoarthritis (OA) is the most common type of arthritis and a growing health problem for aging baby boomers. This progressive joint disease is caused by the degeneration of the smooth, shock-absorbing cartilage in the body's joints. Osteoarthritis can cause pain and loss of function in affected joints. Stiffness and pain are the most common symptoms that cause people to seek medical care.
Other Services at St. Louis Medical Clinic
Diagnosing & treating conditions of the foot and ankle including surgical procedures, provided by Dr. Timko.
Rheumatology
Our Rheumatology Specialists Dr. Richard Di Valerio and Dr. Ying Du will help manage inflammation of musculoskeletal structures including bones, muscles joints and internal organs.
Infusion Services
The clinic offers convenient infusion care for our rheumatology patients.
Lab Services
The clinic offers the best in lab testing services available with our in house testing services combined with our lab partner Health Lab.
Expert care in sports medicine to get you back in the game. Dr. Anthony Margherita specializes in physical Medicine and rehabilitation and has been recognized a "Best Doctor in America" by St. Louis Magazine.
In Home Sleep Test
The clinic offers the convenience of in home sleep test services.
Heart Monitoring Services
The clinic offers the latest in heart monitoring with our stress echo, stress treadmill, EKG and Cardionet Equipment. St. Louis Medical Clinic offers EKG and cardiology services provided by St. Louis Heart & Vascular through Doctors Usman Qayyum and Tanya Singh.
Diabetes, Insulin and Endocrinology
The clinic offers the latest in diabetic insulin pumps and continuous glucose monitoring through Endocrinologist Dr. Gurkiran Dhinsda and our relationship with Medtronics, Animas and Omnipod.
Plus! The clinic has our own shoe cobbler creating diabetic foot wear for clinic patients.
Gastroenterology
Our gastroenterology department delivers complete care for patients suffering from digestive system disorders.  Dr. Steven Fern provides professional GI care.
Nephrology
For those who require specialized care for conditions that affect normal kidney function and preservation of kidney health, St. Louis Med Clinic is pleased to associate
with Dr. Suresh Mathew in delivering the best in compassionate care.
Dermatology
In Association with Mid County Dermatology, Dr. Lawrence Feingenbaum and Dr. Connie Gibstine help manage issues related to skin, hair, nails and some cosmetic problems.
St. Louis Medical Clinic offers Preventative Medicine, Chronic Disease Management, and Wellness Care for your total well being.